"A Heart Full of Orchids"
Heart O' Texas Orchid Society 46th Annual Orchid Show and Sale
Orchid Plant Registration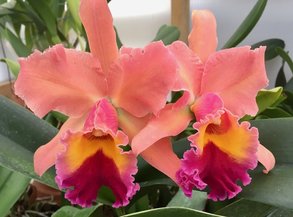 Welcome to our electronic plant registration system.
This page is dedicated to those wishing to participate in our February 10-12, 2017 "A Heart Full of Orchids" Show.
We are continuing our "bench show" format, meaning all the plants entered will be exhibited by the class they are entered in.
Vendors will not have to create exhibits, but are required to enter a minimum of 5 plants to be judged.
The goal is to pre-register as many plants as possible before Friday, February 10, 2017. This allows us to:
organize plant space on the "bench" by actual number of plants entered;

print labels and eliminate the need for you to fill out individual plant tags;
print plant lists by class for judging teams; and avoid last minute chaos and potential errors.
Plant Registration:
It's Easy! Download the attached plant registration form (excel spreadsheet) and e-mail your completed form to myrh@hotos.org. We have also included the SWROGA Class Schedule for reference.
---
If you have any issues downloading the Excel spreadsheet above, please just email your plant list directly to myrh@hotos.org. Include Class, Plant Name and Parents (if applicable) and we will also confirm those submissions. Thanks!

If you are not sure which class to enter your plants under, just insert a "?" in the "class" field and we will assist you at the show. If you are unsure if a plant will be ready to show, please include it and we can delete or add any plants on Friday at the show.

You will receive a confirmation of receipt and a list of submitted plants. Upon arrival at the show registration on Friday, February 10th, we will verify your entries, adding or deleting any last minute changes.

Please Note:
You may still use the handwritten plant tags if necessary, and we will enter them into our database at the show (last resort). However, please consider utilizing the technology provided for efficiency sake. If you only use e-mail, you may list your entries in an e-mail and send them to myrh@hotos.org. Thank you for your patience and understanding - we are looking forward to fabulous show!

To view a list of classes and their descriptions, click on the button above. We are happy to assist, just let us know!